Prevalencia del déficit de vitamina D en mujeres posmenopáusicas de Armenia
F. J. Espitia

Universidad Militar Nueva Granada

L. Orozco

Universidad El Bosque
Resumen
Introducción: la deficiencia de vitamina D disminuye la absorción de calcio en la dieta; por tanto, el cuerpo se ve obligado a utilizar el calcio del esqueleto, lo que puede debilitar los huesos. De este modo, las mujeres posmenopáusicas con bajos niveles de vitamina D tienen mayor riesgo de fracturas osteoporóticas.
Objetivos: determinar la prevalencia del déficit de vitamina D en mujeres posmenopáusicas en Armenia (Quindío).
Materiales y métodos: estudio observacional, descriptivo, de corte transversal, en un centro de atención de la ciudad de Armenia, realizado entre octubre de 2012 y septiembre de 2018. Se incluyó una población de 537 mujeres posmenopáusicas atendidas en la consulta de menopausia y climaterio, mayores de 40 años, con diagnóstico de menopausia; las que fueron elegidas por muestreo aleatorio simple. Se excluyeron mujeres con menopausia iatrogénica, bajo tratamiento con anticoagulantes (heparina), anticonvulsivos (fenitoína, fenobarbital), antecedente de cáncer, antecedente de fracturas en el último año y las que no quisieron participar. Se les determinó la concentración plasmática de 25(OH)D3 mediante cromatografía líquida de alta resolución. Se definió la deficiencia con rangos de 25(OH)D3 <20 ng/mL e insuficiencia 20-29,9 ng/ mL. Se evaluaron variables sociodemográficas, de salud sexual y reproductiva antecedentes, antecedentes patológicos personales y variables de los estilos de vida. La información recolectada fue descrita y analizada mediante técnicas estadísticas convencionales, con análisis estratificado según variables.
Resultados: la edad promedio fue de 53,7 ± 8,7 años (rango 42 a 78). La concentración media de 25(OH)D3 en la población total fue de 32,45 ± 15,87 ng/mL (rango 7,53-80,41). La prevalencia de déficit de vitamina D en el grupo estudiado estuvo presente en el 73,92% (n = 397) de las mujeres, las cuales registraron valores inferiores a 30 ng/mL, reportando una prevalencia de insuficiencia del 40,78% (n = 219) y deficiencia del 33,14% (n = 178). El déficit aumentó en las mujeres de mayor edad (77,57% en las mayores de 70 años).
Conclusiones: en la ciudad de Armenia, aproximadamente, tres cuartas partes de las mujeres posmenopáusicas presentan niveles de vitamina D dentro de los parámetros establecidos para deficiencia o insuficiencia. Se hace necesario mejorar la eficiencia y el impacto de los programas de suplementación con vitamina D en este grupo poblacional.
##plugins.generic.usageStats.downloads##
##plugins.generic.usageStats.noStats##
Citas
1. Xie Z, Xia W, Zhang Z, Wu W, Lu C, Tao S, et al. Prevalence of Vitamin D Inadequacy Among Chinese Postmenopausal Women: A Nationwide, Multicenter, Cross-Sectional Study. Front. Endocrinol. 2019;9(782):1-11. doi: 10.3389/fendo.2018.00782
2. Lehmann B, Meurer M. Vitamin D metabolism. Dermatol Ther. 2010;23(1):2-12. doi: 10.1111/j.1529-8019.2009.01286.x
3. Norman AW. Sunlight, season, skin pigmentation, vitamin D, and 25-hydroxyvitamin D: integral components of the vitamin D endocrine system. Am J Clin Nutr. 1998;67(6):1108-10.
4. Bikle DD. Role of vitamin D, its metabolites, and analogs in the management of osteoporosis. Rheum Dis Clin North Am. 1994;20:759-75.
5. Tayem Y, Alotaibi R, Hozayen R, Hassan A. Therapeutic regimens for vitamin D deficiency in postmenopausal women: a systematic review. Prz Menopauzalny. 2019;18(1):57-62. doi: 10.5114/pm.2019.84159
6. Albahrani AA, Greaves RF. Fat-soluble vitamins: clinical indications and current challenges for chromatographic measurement. Clin Biochem Rev. 2016;37(1):27-47.
7. Sun Q, Shi L, Rimm EB, Giovannucci EL, Hu FB, Manson JE, et al. Vitamin D intake and risk of cardiovascular disease in US men and women. Am J Clin Nutr. 2011;94(2):534-42. doi: 10.3945/ajcn.110.008763
8. Wacker M, Holick MF. Vitamin D - Effects on skeletal and extraskeletal health and the need for supplementation. Nutrients. 2013;5(1):111-48. doi: 10.3390/nu5010111
9. Holick MF, Binkley NC, Bischoff-Ferrari HA, Gordon CM, Hanley DA, Heaney RP, et al. Guidelines for preventing and treating vitamin D deficiency and insufficiency revisited. J Clin Endocrinol Metab. 2012;97(4):1153-8. doi: 10.1210/jc.2011-2601
10. Capatina C, Carsote M, Caragheorgheopol A, Poiana C, Berteanu M. Vitamin d deficiency in postmenopausal women - biological correlates. Maedica (Buchar). 2014;9(4):316-322.
11. Daly RM, Gagnon C, Lu ZX, Magliano DJ, Dunstan DW, Sikaris KA, et al. Prevalence of vitamin D deficiency and its determinants in Australian adults aged 25 years and older: a national, population-based study. Clin Endocrinol (Oxf). 2012;77(1):26-35. doi: 10.1186/1471-2458-14-1001
12. Kennel KA, Drake MT, Hurley DL. Vitamin D deficiency in adults: when to test and how to treat. Mayo Clin Proc. 2010;85(8):752-7. doi: 10.4065/ mcp.2010.0138
13. Gunton JE, Girgis CM. Vitamin D and muscle. Bone Reports. 2018;8:163-7. doi:10.1016/j.bonr.2018.04.004
14. de la Hunty A, Wallace AM, Gibson S, Viljakainen H, Lamberg-Allardt C, Ashwell M. UK Food Standards Agency Workshop Consensus Report: the choice of method for measuring 25-hydroxyvitamin D to estimate vitamin D status for the UK National Diet and Nutrition Survey. Br J Nutr. 2010;104(4):612-9. doi: 10.1017/S000711451000214X
15. Barake M, Daher RT, Salti I, Cortas NK, Al-Shaar L, Habib RH, et al. 25-hydroxyvitamin D assay variations and impact on clinical decision making. J Clin Endocrinol Metab. 2012;97(3):835-43. doi: 10.1210/jc.2011-2584
16. Naidooa Y, Moodleyb J, Maduraic L, Naickera T. Prevalence of Vitamin D deficiency in a multiracial female population in KwaZulu-Natal province, South Africa. South African Fam Pract. 2019;61(3):79-84. https://doi.org/10.1080/20786190.2018.1541579
17. Hilger J, Friedel A, Herr R, Rausch T, Roos F, Wahl DA, et al. A systematic review of vitamin D status in populations worldwide. Br J Nutr. 2014;111(1):23-45. https://doi.org/10.1017/S0007114513001840
18. Vásquez-Awad D, Cano-Gutiérrez CA, Gómez-Ortiz A, González MÁ, Guzmán-Moreno R, Martínez-Reyes JI, et al. Vitamina D. Consenso colombiano de expertos. Medicina (B Aires). 2017;39(2):140-57.
19. Arévalo CE, Núñez M, Barcia RE, Sarandria P, Miyazato M. Vitamin D deficit in adult women living in Buenos Aires City. Medicina (B Aires). 2009;69:635-9.
20. Fassi J, Russo-Picasso MF, Furci A, Sorroche P, Jáuregui R, Plantalech L. Seasonal variations in 25-hydroxyvitamin D in young and elderly and populations in Buenos Aires City. Medicina (B Aires). 2003;63(3):215-20.
21. Fradinger EE, Zanchetta JR. Vitamin D and bone mineral density in ambulatory women living in Buenos Aires, Argentina. Osteoporos Int. 2001;12:24-27. https://doi.org/10.1007/s001980170153
22. Ginde AA, Liu MC, Camargo CA Jr. Demographic differences and trends of vitamin D insufficiency in the US population, 1988-2004. Arch Intern Med. 2009;169(6):626-32. doi: 10.1001/archinternmed.2008.604
23. Bandeira F, Griz L, Dreyer P, Eufrazino C, Bandeira C, Freese E. Vitamin D deficiency: a global perspective. Arq Bras Endocrinol Metabol. 2006;50(4):640-6.
24. González G, Alvarado JN, Rojas A, Navarrete C, Velásquez CG, Arteaga E. High prevalence of vitamin D deficiency in Chilean healthy postmenopausal women with normal sun exposure: additional evidence for a worldwide concern. Menopause. 2007;14:455-61. doi: 10.1097/ GME.0b013e31802c54c0
25. Díaz ME, Llinas A. Niveles de vitamina D y prevalencia de déficit de vitamina D" en mujeres postmenopáusicas mayores de 50 años en Bogotá. [Internet]. Universidad del Rosario - Universidad CES. 2014. Disponible en: http://repository.urosario.edu.co/bitstream/handle/10336/9037/80871284-2014_1.pdf?sequence=6&isAllowed=y
26. González D, Zúniga C, Kattah W. Insuficiencia de vitamina D en pacientes adultos con baja masa ósea y osteoporosis en la Fundación Santa Fe de Bogotá 2008-2009. Rev Colomb Reumatol. 2010;17:212-8.
27. Molina JF, Molina J, Escobar JA, Betancur JF, Giraldo A. Niveles de 25 hidroxivitamina D y su correlación clínica con diferentes variables metabólicas y cardiovasculares en una población de mujeres posmenopáusicas. Acta Med Colomb. 2011;36:18-23.
28. Navarro EP, Tejada JW, Carrillo DC, Guzmán GE, Arango LG. Prevalencia de la insuficiencia de vitamina D en pacientes con osteoporosis. Rev Colomb Reumatol. 2016;23(1):17-23. http://dx.doi.org/10.1016/j.rcreu.2015.12.006
29. Pludowski P, Holick MF, Grant WB, Konstantynowicz J, Mascarenhas MR, Haq A, et al. Vitamin D supplementation guidelines. J Steroid Biochem Mol Biol. 2018;175:125-135. doi: 10.1016/j.jsbmb.2017.01.021
30. Espitia FJ, Orozco L. Prevalencia del déficit de vitamina D y de los factores de riesgo asociados, en gestantes del Quindío. Rev Colomb Endocrinol Diab & Metabol. 2018:5(4);5-12.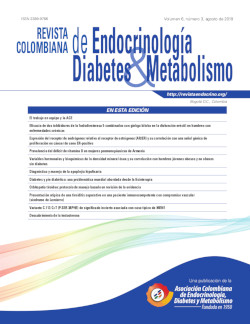 ##submission.howToCite##
ESPITIA, F. J.; OROZCO, L.. Prevalencia del déficit de vitamina D en mujeres posmenopáusicas de Armenia.
Revista Colombiana de Endocrinología, Diabetes & Metabolismo
, [S.l.], v. 6, n. 3, p. 171-176, oct. 2019. ISSN 2389-9786. Disponible en: <
http://revistaendocrino.org/index.php/rcedm/article/view/531
>. Fecha de acceso: 25 ene. 2020
Sección
Articulos Originales
Esta obra está bajo licencia internacional
Creative Commons Reconocimiento-NoComercial-SinObrasDerivadas 4.0
.
Los autores deben declarar revisión, validación y aprobación para publicación del manuscrito, además de la cesión de los derechos de publicación, mediante un documento que debe ser enviado antes de la aparición del escrito. Puede consultar una copia del documento
aquí