Presentación atípica de una tiroiditis supurativa en una paciente inmunocompetente con compromiso vascular (síndrome de Lemierre)
W. Rojas

Hospital San José

H. Tovar

Hospital San José

J. J. Vargas

Hospital San José

R. Tous

Hospital San José
Resumen
La patología de la glándula tiroidea, en su mayor porcentaje, está constituida por las tiroiditis, una amplia gama de enfermedades de diversa etiología (infecciosa, autoinmune o de ocurrencia desconocida) y su duración (agudas, subagudas o crónicas). Desde el punto de vista fisiológico pueden variar en su presentación y causar hipotiroidismo o tirotoxicosis o no alterar el funcionamiento de las hormonas tiroideas.

La tiroiditis supurativa aguda tiene una causa principalmente infecciosa. Es una condición inusual, ya que la tiroides normal es particularmente resistente a las infecciones debido a su extenso drenaje venoso y linfático, además de su alto contenido de yodo y la presencia de una cápsula fibrosa, que sirve como escudo ante agentes nocivos externos. Las infecciones de la tiroides representan aproximadamente el 0,7% de toda la patología quirúrgica en relación con esta glándula (1-3) y son más frecuentes en una tiroides anormal. A pesar de lo extraño de esta condición, es importante conocer cuál es su presentación y su asociación con los pacientes inmunocompetentes, como la extensión vascular presente en el síndrome de Lemierre que presentó esta paciente.

El objetivo de este informe es presentar un caso clínico de una paciente que cursó con un episodio de tiroiditis infecciosa, su manejo y las diferentes causas de tiroiditis. Se realizó una revisión actualizada del tema y las diferentes opciones de tratamiento. Este caso se manejó rápidamente con corticoides y terapia antibiótica, al igual que drenaje quirúrgico. La paciente se recuperó respondiendo satisfactoriamente al manejo quirúrgico y farmacológico instaurado. Se concluyó que el tratamiento efectuado fue exitoso
##plugins.generic.usageStats.downloads##
##plugins.generic.usageStats.noStats##
Citas
1. Cawich SO, Hassranah D, Naraynsingh V. Idiopathic thyroid abscess. Int J Surg Case Rep. 2014;5(8):484-6.
2. Gady J, Piorkowski R. Infections of the thyroid gland. En: Hupp J, Ferneini EM (editor). Head, neck, and orofacial infections. 2016. p. 288-92.
3. Bravo E, Grayev A. Thyroid abscess as a complication of bacterial throat infection. J Radiol Case Rep. 2011;5:1-7.
4. Schweitzer VG, Olson NR. Thyroid abscess: otolaryngol. Head Neck Surg. 1981;89(2):226-9.
5. Jonas NE, Fagan JJ. Internal jugular vein thrombosis: a case study and review of the literature. Internet J Otorhinolaryngol. 2007;6:2.
6. Yedla N, Pirela D, Manzano A, Tuda C, Lo Presti S. Thyroid abscess: challenges in diagnosis and management. J Investig Med High Impact Case Rep. 2018;6.
7. Kottahachchi D, Topliss DJ. Immunoglobulin G4-related thyroid diseases. Eur Thyroid J. 2016;5(4):231-9.
8. Oroog A, Truran P, Aspinall S. Thyrotoxicosis and thyroiditis. Surgery (Oxford). 2017;35(10):569-75.
9. Falhammar H, Juhlin CC, Barner C, Catrina SB, Karefylakis C, Calissendorff J. Riedel's thyroiditis: clinical presentation, treatment and outcomes Henrik Falhammar. Endocrine. 2018;60(1):185-92.
10. Rizzo L, Mana DL, Bruno OD. Tiroiditis no-autoinmunes. Medicina. 2014;74(6):481.
11. Keely EJ. Postpartum thyroiditis: an autoimmune thyroid disorder which predicts future thyroid health. Obstet Med. 2011;4(1):7-11.
12. Miyauchi A. Thyroid gland: a new management algorithm for acute suppurative thyroiditis? Nat Rev Endocrinol. 2010;6(8):424-6.
Lecturas recomendadas
• Elorza JL, Echenique-Elizonda M. Acute suppurative thyroiditis. J Am Coll Surg. 2002;195:729-30.
• García JC, Redondo J, Civera M, Verdú J, Pellicer V, Martínez MP. Management of thyroid gland abscess. Acta Otorrinolaringol. 2018;70(2):61-7.
• Goldani LZ, Zavascki AP, Maia AL. Fungal thyroiditis: an overview. Mycopathologia. 2006;161:129-39.
• Jeng LB, Lin JD, Chen MF. Acute suppurative thyroiditis: a ten year review in a Taiwanese hospital. Scand J Infect Dis. 1994;26:297-300.
• Mali VP, Prabhakaran K. Recurrent acute thyroid swellings because of pyriform sinus fistula. J Pediatr Surg. 2008;43:e27-30.
• McAninch EA, Xu C, Lagari VS, Kim BW. Coccidiomycosis thyroiditis in an immunocompromised host post-transplant: case report and literature review. J Clin Endocrinol Metab. 2014;99:1537-42.
• Paes JE, Burman KD, Cohen J, Franklyn J, McHenry CR, Shoham S, et al. Acute bacterial suppurative thyroiditis: a clinical review and expert opinion. Thyroid. 2010;20(3):247-55.
• Pearce EN, Farwell AP, Braverman LE. Thyroiditis. N Engl J Med. 2003;348(26):2646-55.
• Seo JH, Park YH, Yang SW, Kim HY. Refractory acute suppurative thyroiditis secondary to pyriform sinus fistula. Ann Pediatr Endocrinol Metab. 2014;9:104-7.
• Sheu SY, Schmid KW. Inflammatory diseases of the thyroid gland. Epidemiology, symptoms and morphology. Pathologe. 2003;24(5):339-47.
• Sioka E, Efthimiou M, Skoulakis C, Zacharoulis D. Thyroid abscess requiring emergency intervention. J Emerg Med. 2011;43(6):e455-6.
• Suprabha J, Vijay K, Shital P. Acute bacterial thyroid abscess as a complication of septicemia. IDCP. 2000;9:383-6.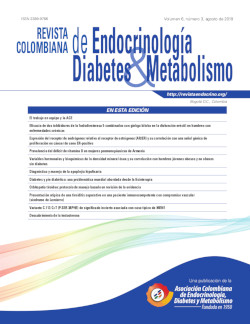 ##submission.howToCite##
ROJAS, W. et al. Presentación atípica de una tiroiditis supurativa en una paciente inmunocompetente con compromiso vascular (síndrome de Lemierre).
Revista Colombiana de Endocrinología, Diabetes & Metabolismo
, [S.l.], v. 6, n. 3, p. 218-227, oct. 2019. ISSN 2389-9786. Disponible en: <
http://revistaendocrino.org/index.php/rcedm/article/view/536
>. Fecha de acceso: 25 ene. 2020
Sección
Página de Residente
Esta obra está bajo licencia internacional
Creative Commons Reconocimiento-NoComercial-SinObrasDerivadas 4.0
.
Los autores deben declarar revisión, validación y aprobación para publicación del manuscrito, además de la cesión de los derechos de publicación, mediante un documento que debe ser enviado antes de la aparición del escrito. Puede consultar una copia del documento
aquí