Síndrome polidípsico-poliúrico en trastornos de la conducta alimentaria de la adolescencia
L. Sandoval

Pontificia Universidad Javeriana

A. Calderón

Pontificia Universidad Javeriana

L. Argüello

Pontificia Universidad Javeriana

A. Soler

Pontificia Universidad Javeriana

C. Forero

Hospital Universitario San Ignacio

C. Céspedes

Hospital Universitario San Ignacio
Resumen
Los trastornos de la conducta alimentaria son un espectro de enfermedades psiquiátricas poco frecuentes, con una prevalencia difícil de establecer en la población pediátrica. Estos desórdenes pueden tener diversas repercusiones sistémicas, dentro de las que se encuentran las alteraciones endocrinológicas. Se presenta el caso de una adolescente remitida a urgencias desde la consulta externa de endocrinología por polidipsia y poliuria. Durante la hospitalización se descartan diabetes insípida, diabetes mellitus, síndrome de secreción inadecuada de la hormona antidiurética y cerebro perdedor de sal. Por tanto, una vez excluidas las causas orgánicas, se identifica un trastorno de la conducta alimentaria que podría cursar con polidipsia psicógena
##plugins.generic.usageStats.downloads##
##plugins.generic.usageStats.noStats##
Citas
1. Silva H. DSM-5: Nueva clasificación de los trastornos mentales. Rev Chil Neuro Psiquiat. 2014;52(supl 1):7-8.
2. Lock J, La Via MC; American Academy of Child and Adolescent Psychiatry (AACAP) Committee on Quality Issues (CQI). Practice parameter for the assessment and treatment of children and adolescents with eating disorders. J Am Acad Child Adolesc Psychiatry. 2015;54(5):412-425.
3. Krogulska A, Nowicka D, Nowicki Z, Parzęcka M, Sakson-Słomińska A, Kuczyńska R. A loss of consciousness in a teenage girl with anorexia nervosa due to polydipsia: case report and a minireview. Eat Weight Disord. 2019;24(5):969-974.
4. Campbell K, Peebles R. Eating disorders in children and adolescents: state of the art review. Pediatrics. 2014;134(3):582-592.
5. Sieke EH, Rome ES. Eating disorders in children and adolescents: what does the gynecologist need to know? Curr Opin Obstet Gynecol. 2016;28(5):381-392.
6. Misra M, Klibanski A. Anorexia Nervosa and Its Associated Endocrinopathy in Young People. Horm Res Paediatr. 2016;85(3):147-157.
7. Boisseau CL. Identification and management of eating disorders in gynecology: menstrual health as an underutilized screening tool. Am J Obstet Gynecol. 2016;215(5):572-578.
8. Nigro N, Grossmann M, Chiang C, Inder WJ. Polyuria-polydipsia syndrome: a diagnostic challenge. Intern Med J. 2018;48(3):244-253.
9. Trimpou P, Olsson DS, Ehn O, Ragnarsson O. Diagnostic value of the water deprivation test in the polyuria-polydipsia syndrome. Hormones (Athens). 2017;16(4):414-422.
10. Sailer C, Winzeler B, Christ-Crain M. Primary polydipsia in the medical and psychiatric patient: characteristics, complications and therapy. Swiss Med Wkly. 2017;147:w14514.
11. Metropulos D, Antoon JW. Primary Polydipsia in a Child. Clinical Pediatrics. 2015;54(14):1396-98.
12. Teixeira B. Perestrelo J. Psychogenic polydipsia and hyponatremia – A side effect of psychosis: a review with a case report. 2016;65(3):300-303.
13. Kara, Koray & Congologlu, Mehmet & Durukan, İbrahim & Karaman, Dursun. (2016). Psychogenic Polydipsia in an Adolescent with Eating Disorder: A Case Report. Gulhane Medical Journal. 58. 1. 10.5455/gulhane.152162.
14. Støving RK. Mechanisms in endocrinology: Anorexia nervosa and endocrinology: a clinical update. Eur J Endocrinol. 2019;180(1):R9-R27.
15. Aguiar DT, Monteiro C, Coutinho P. Recurrent rhabdomyolysis secondary to hyponatremia in a patient with primary psychogenic polydipsia. Rev Bras Ter Intensiva. 2015;27(1):77-81.
16. Cruzado Díaz L., Kruger Malpartida H., Borda Olivos F. Polidipsia psicógena complicada con hiponatremia y rabdomiólisis: reporte de un caso. Rev medica hered. 2012;17(3):183.
17. Bhatia MS, Goyal A, Saha R, Doval N. Psychogenic Polydipsia - Management Challenges. Shanghai Arch Psychiatry. 2017;29(3):180-183.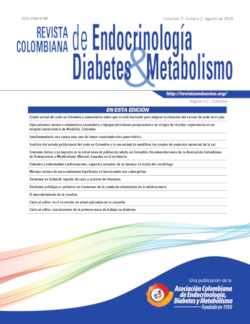 ##submission.howToCite##
SANDOVAL, L. et al. Síndrome polidípsico-poliúrico en trastornos de la conducta alimentaria de la adolescencia.
Revista Colombiana de Endocrinología, Diabetes & Metabolismo
, [S.l.], v. 7, n. 2, p. 127-131, sep. 2020. ISSN 2389-9786. Disponible en: <
http://revistaendocrino.org/index.php/rcedm/article/view/613
>. Fecha de acceso: 23 abr. 2021
Esta obra está bajo licencia internacional
Creative Commons Reconocimiento-NoComercial-SinObrasDerivadas 4.0
.
Los autores deben declarar revisión, validación y aprobación para publicación del manuscrito, además de la cesión de los derechos de publicación, mediante un documento que debe ser enviado antes de la aparición del escrito. Puede consultar una copia del documento
aquí